Introducing Extreme Series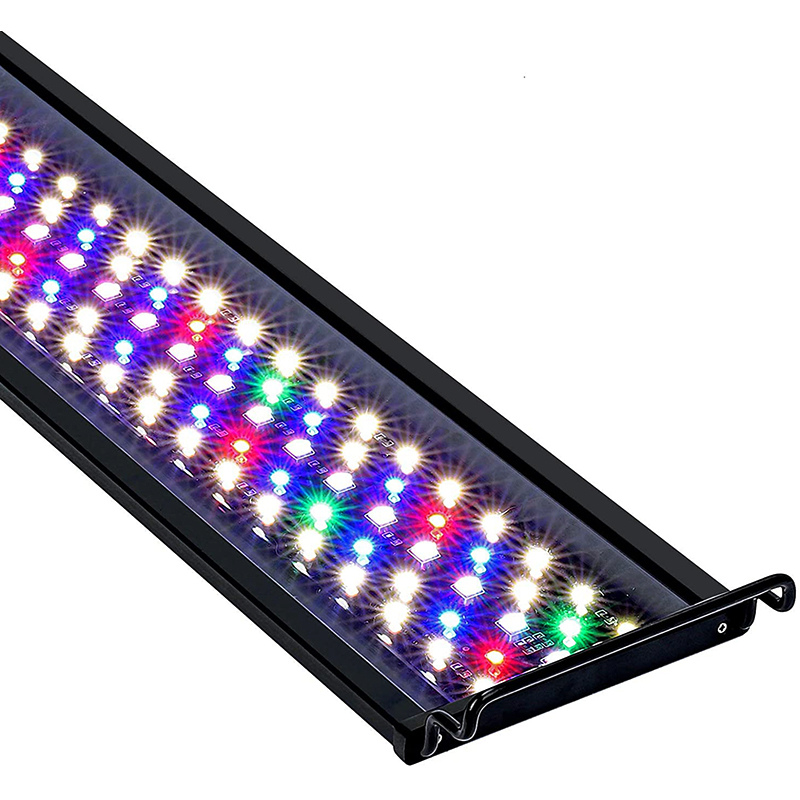 Rendering index 85. The irradiated light is softer and does not hurt the eyes, the light is more stable. If you use a mobile phone to take pictures,the screen is not flashing, the eyes and the fish are protected.
High-quality Lights Beads. 5 rows of lamp beads, the light surface is wider, the color is bright. High lumens, translucent fish tanks, and brighter plants. Long-term use does not decay, the light effect is pure and transparent, the life is long, and it can be used for tens of thousands of hours.
Extendable Bracket: There are 6 sizes, and is the extendable bracket, and suitable for many fish tanks.
Waterproof IP67. The lamp beads are made of glue filling, fully sealed and waterproof. The light is high light transmittance, waterproof, and easy to clean.
Note: When in use, some lights will enter water vapor due to the different scenes used in fish tanks, etc. This will not affect the use, and there is no need to worry about the lights entering the water. The lamp beads have waterproof protection.
If you think it will affect the lighting effect, you can remove the PC plastic cover of the light (remove the screw), and expose the lamp beads to use it directly.
App Controller Systems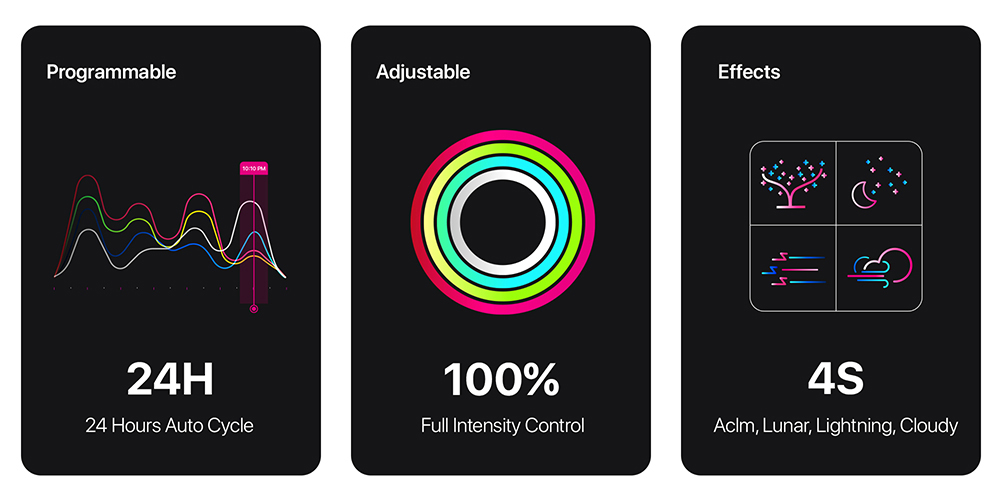 App controller that connects you to all your NemoLight devices, easy to control and set. There are two modules of Bluetooth (2.4G) + Broadcast (2.4G), make the connecting easy and fast. The rich settings to make the lighting become more powerful.
Dashboard: On the Dashboard, you can quickly to go the preset to set the program. And switch ON/OFF for the lighting intensity, effects, expands easily, which to help you rule all the status of your devices as system.
Control Systems: There are two modes, Auto and Manual mode with 4 channels to make varies lighting settings. Lunar, lightning, cloudy, to simulate the natural lighting for the aquarium life.
Extreme 300

Model NO: E-300
LEDs Quantity: 53*0.5W
Power Consumption: 18W
LUMENS: 920 LM
Size: 270X110X10mm
Packing Size: 39*11*6CM
Shipping Weight: 1.0kg
LEDs
WHITE: 28PCS
BLUE: 6PCS
RED: 4PCS
GREEN: 4PCS
RGB: 11PCS

Bracket Coverage
Min: 300mm
Max: 450mm
Extreme 450

Model NO: E-450
LEDs Quantity: 93*0.5W
Power Consumption: 24W
LUMENS: 1290 LM
Size: 420X110X10mm
Packing Size: 54*11*6CM
Shipping Weight: 1.5kg
LEDs
WHITE: 50PCS
BLUE: 12PCS
RED: 6PCS
GREEN: 6PCS
RGB: 19PCS

Bracket Coverage
Min: 450mm
Max: 600mm
Extreme 600

Model NO: E-600
LEDs Quantity: 133*0.5W
Power Consumption: 34W
LUMENS: 2060 LM
Size: 570X110X10mm
Packing Size: 75*11*6CM
Shipping Weight: 2.0kg
LEDs
WHITE: 72PCS
BLUE: 18PCS
RED: 8PCS
GREEN: 8PCS
RGB: 27PCS

Bracket Coverage
Min: 600mm
Max: 750mm
Extreme 750
Model NO: E-750
LEDs Quantity: 173*0.5W
Power Consumption: 45W
LUMENS: 2460 LM
Size: 720X110X10mm
Packing Size: 81*11*6CM
Shipping Weight: 2.5kg
LEDs
WHITE: 94PCS
BLUE: 24PCS
RED: 10PCS
GREEN: 10PCS
RGB: 35PCS

Bracket Coverage
Min: 750mm
Max: 900mm
Extreme 900

Model NO: E-900
LEDs Quantity: 213*0.5W
Power Consumption: 56W
LUMENS: 2980 LM
Size: 870X110X10mm
Packing Size: 96*11*6CM
Shipping Weight: 3.0kg
LEDs
WHITE: 116PCS
BLUE: 28PCS
RED: 13PCS
GREEN: 13PCS
RGB: 43PCS

Bracket Coverage
Min: 900mm
Max: 1000mm
Extreme 1200
Model NO: E-1200
LEDs Quantity: 293*0.5W
Power Consumption: 68W
LUMENS: 3520 LM
Size: 1170X110X10mm
Packing Size: 122*11*9cm
Shipping Weight: 3.5kg
LEDs
WHITE: 157PCS
BLUE: 39PCS
RED: 20PCS
GREEN: 18PCS
RGB: 59PCS

Bracket Coverage
Min: 1200mm
Max: 1350mm